Miss Canada Globe 2015 Winner:
Kaitlyn Pickering- Miss Canada Globe 2015/ 16
(Miss Saskatchewan- Globe 2015/ 16)



BIOGRAPHY:
Born in Regina, Saskatchewan, Kaitlyn is currently in her second year at the University of Regina, pursuing a Bachelor of Arts; Theatre Major with an Acting Concentration. She has been pursuing acting since the first musical production of the Wedding Singer in high school (2009) and has recently participated in The King Stag (2014) with the University.
In the past few years, Kaitlyn has been part of many activities, such as the 155 Royal Regina Rifles and the Royal Canadian Army Cadet Corps (2009-2014). Kaitlyn joined the program at the age of 13, where she learned new skills in leadership, survival, and how to properly handle weapons such as knives, guns, and various other tools. She was also part of the Corps Marksmanship team and the Rifle Drill team every year when she was a cadet. Now, Kaitlyn passes her knowledge to her Cadets as a Civilian Instructor, and awaits her officers training, which will begin in September of 2015.
Kaitlyn also had the wonderful privilege of performing live with her favorite band, Marianas Trench with 16 of her friends and classmates in her graduating year (2013)
A very energetic student, Kaitlyn loves to Sing, Draw, Avidly Read and Act. Despite her size, Kaitlyn also loves Wrestling, Soccer, and is an active student with her Martial Arts Dojo wherein she is now an Orange Belt.
2015 Royal Court:


TBD


2nd Princess: Rebekah Romero (Miss New Brunswick- Globe 2015/ 16)

Rebekah, 19 years old, born in Fredericton, New Brunswick and raised in a small town, knows the importance of community involvement. For years, she has volunteered much of her time helping at local events. At 17 years old, Rebekah was recognized for her many skills and attributes and was crowned Miss Minto in her hometown pageant.
Through studying Psychology at St. Thomas University, and volunteering at hospitals on diverse medical units aiding pediatric, geriatric, palliative, and autistic patients, Rebekah's passion for serving others has grown immensely. In September 2015, she will be attending Mount Royal University located in Calgary, Alberta with the goal of becoming a Registered Nurse.
A talented athlete, Rebekah has been playing sports from an early age. Through hard work, commitment, and perseverance, Rebekah has played sports at many different levels. In 2011, she represented New Brunswick at the national level in Toronto for ringette. A strong leader, she has been appointed captain for numerous teams and has received many athletic awards including, Most Valuable Player and Athlete of the Year. In 2013, she was recruited to play for the St. Thomas University Women's Soccer Team where she went on to be named Rookie of the Year.
Rebekah, whose mother originates from Canada and father from Venezuela, enjoys learning about the diversity of cultures. Growing up in her household, she has learned English, Spanish, and French, and wishes to learn other languages and spend some time travelling the world. Rebekah also enjoys fashion, reading, photography, canoeing, doing yoga, and trying new things.
Kind-hearted and driven, Rebekah's biggest dream is to make a difference in the lives of all who are affected by autism spectrum disorders. She believes in the power of hope, God's unfailing love, and working hard to make a change.
TBD

TBD

Past Title Holders:

Jessica Zephyr, Miss Canada Globe 2014/15
(Miss Quebec- Globe 2014/ 15)

Jacqueline Wojciechowski, Miss Canada Globe 2013/ 2014
(Miss Western Ontario- Globe 2013/ 2014)



Casar Jacobson, Miss Canada Globe 2012/2013
(Miss British Columbia- Globe 2012/ 2013)



Vanessa Littler, Miss Canada Globe 2011/2012
(Miss Northern Nova Scotia- Globe 2011/2012



Nicole Lacz, Miss Canada Globe 2010/ 2011
(Miss Peel Region- Globe 2010)
Note: Top 15 Semifinalist and winner of Miss Elegance Award at Miss Globe 2011 World Final in Tirana, Albania



Trician- Renee Edwards, Miss Canada Globe 2009/ 2010
(Toronto, Ontario)
Note: Won Miss Friendship Award at the 2010 Miss Globe World Final in Seranda, Albania



Shanelle Vogt, Miss Canada Globe 2008/ 2009
(Peel Region, Ontario)
Note: Miss Golden Girl, Miss Globe 2009



Krystal Wilson, Miss Canada Globe 2007/ 2008
(Central Ontario)
Note: Fourth Runner- Up, Miss Globe 2008



Stefania Cerbino, Miss Canada Globe 2006/ 2007
(Vaughan, Ontario)
Note: Best National Costume, Miss Globe 2007



Natasa Delic, Miss Canada Globe 2005/ 2006
(Wentworth County, Ontario)
Note: Semifinalist, Miss Globe 2006



Jessica Thibault, Miss Canada Globe 2004/ 2005
(Barrie, Ontario)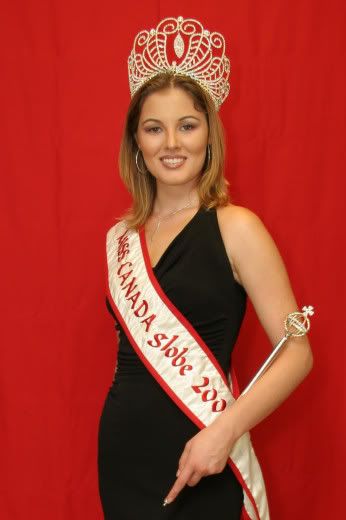 Mias Santa Ana Pilar, Miss Canada Globe 2002/ 2003
(Toronto, Ontario)





Lillian Adessa, Miss Canada Globe 2001/ 2002

Linda Strauss, Miss Canada Globe 2000/ 2001