Miss Canada Globe 2014 Winner:
Jessica Zephyr (Miss Quebec- Globe 2014/ 2015)



BIOGRAPHY:
Jessica Zephyr was born and raised in Montreal, Quebec. She is of Haitian descent. She is currently completing her last year at Vanier College, pursuing a major in child studies. She is looking forward in getting her bachelor degree in education.
Apart from her educational goals, Jessica has many ambitions. She is passionate about fashion and is interested in pursuing a professional modeling career. In addition, Jessica wants to be able to leave her mark in the world and change it for the better. She is concerned about child poverty and has chosen to work with the Chagnon Foundation as a platform. The Chagnon Foundation has for a mission to prevent poverty by focusing on educational success. Jessica is also actively involved in her local church in Montreal. Her church has done some charity work such as donating clothes and food to families in need.
Jessica speaks French, English, Creole, and a little bit of German. She took a beginners' German class last year in school and would like to eventually become fluent.
Jessica has been singing in choirs since she was 12 years old. She enjoys shopping, fashion, fitness/health and well-being, listening to music, and watching movies. Jessica likes to write. She and her two older sisters have a blog called Sweet Zephir on which she often shares her thoughts and views on life.
2014 Royal Court:


1st Princess: Katrina Martinez (Miss Alberta- Globe 2014)


Katrina is 18 and will be going into her final year of High School. She was born in Calgary, Alberta but it is her mixed heritage that accounts for her unique look. Her father is Pilipino and Spanish and her mother is East Indian and British. Her combination of cultures and a love of milk probably account for her 5'11 stature.
Very young Katrina showed a love of clothes and by age 14 she had decided she wanted to model. Katrina completed a modeling course and was invited to attend Faces West in Vancouver where she was privileged to meet Coco Rocha. Katrina later learned she and Coco Rocha have more than modeling in common. Both are Jehovah's Witnesses which encouraged Katrina to see that it was possible to be in a competitive industry but still maintain Bible principles.
At 15 Katrina was signed by Sophia Models International as a model and a stylist and is currently on an internship to learn more about the business. Katrina is also a model with Hollister.
In Grade 9, Katrina also discovered a love of sewing and rapidly found a talent for redesigning patterns and deconstructing existing clothing. As an avid consignment and thrift shopper, Katrina loves to recycle clothing and make what is old new again. She interned with Couture designer Michelle Roberts of Emogene Designs. Who sponsored and designed her opening number dress.
As a natural sports person, she could also often be found in a gym, a pool or on the track field. She also enjoys golf, yoga and Pilates.
Katrina will be taking a makeup artistry course at Marvel College this fall and after High School she plans to take Fashion Marketing and hopes to continue to develop her career as a Stylist, Makeup Artist, Designer and Model.
2nd Princess: Samantha Morris (Miss Southern Alberta- Globe 2014)


Samantha was born December 16 in Regina, Saskatchewan, and now lives in Calgary, Alberta where she attended junior and senior high school and graduated college with a Medical Administrative Assistant Diploma. She is currently working evenings as a blackjack dealer while looking into pursuing her dream of returning to University to become a Pediatric Cardiologist. She competed for Miss Universe Canada in 2012 and many other competitions since 2011.
She is outgoing, spontaneous, kind and caring. She is self-motivated and for the most part self-inspired, except for those everyday people who do extraordinary things.
She is hard working and believes that women are strong, confident and beautiful beings. She also believes that music and laughter, along with self-confidence and courage, is the cure to illness. She promotes a healthy lifestyle.
In her past years of community involvement, She has done charity work with Wrap it up (a Charity that wraps gifts during the holidays), Good Samaritans Purse Operation Christmas Child, Stars Air Ambulance, and many more. She hopes to add work with the SPCA of Alberta and the Children's Hospital to the list and by entering this competition she hopes to gain more experiences with these organizations and many other charities.
Samantha is proud of her Cree/white (Métis) heritage and hopes to be a role model to all youth by following her hopes, dreams and by achieving her own happiness and success.
Her interests include spending time with her family friends and pets. Listening to music, swimming, cooking and baking, fitness, watching movies, shopping, board games, learning new things, and travelling. She models part-time for photo-shoots to help local photographers build portfolios. She was involved as a child in baseball, basketball, and Ringette.
3rd Princess: Kylee Anderson (Miss Central Saskatchewan- Globe 2014)


Kylee was born and raised on a farm outside of Saskatoon, Saskatchewan. At 18 years of age she already has an array of accomplishments that make her a worthy candidate for Miss Canada Globe. Her dream is to become a radio or television host and she will be attending broadcasting college next year. She chose this career path because it will allow her to continue to be an active member of the community working with local charities, being able to interact with the public, and being an inspiration to young women. Currently she works in radio promotions which has allowed her to work for various events that raise money for charities in the area, these include the Canadian Cancer Society, Autism Speaks, and United Way.
When she isn't working she dedicates her time to Hands On Ministries. She holds this organization true to her heart and acts as an older sister/mentor to young girls and boys in the community and will be working full time with the organization this autumn. Working there she has been inspired to one day open up her own after school program for inner city kids because she believes that providing a stable environment for youth is the foundation for a healthy and successful future.
Her talents include numerous years of dance and cheerleading where she has earned countless provincial and national titles. Aside from that she loves comedy writing and performing. She also worked as a promotional model for Chevrolet trucks and taught line dancing to crowds at country music festivals throughout the summer.

4th Princess: Eden Aston (Miss Ontario- Globe 2014)


Eden is from Toronto, Ontario and she graduated high school in 2007 on the Honour Roll, winning the French Award, the Science Award and the Media Studies Award. She began her post-secondary career at York University, where she studied Film for 4 years. After her university experience, Eden still chose to further pursue her academic dreams. She is now in college, in her third year of an Advanced Diploma in Advertising & Marketing Management, and is starting an internship at an agency next semester. Over the past couple of years, she has been volunteering through her school at various events linked to her field/industry. Her ultimate goal is to open her own business within the next year or two.
Eden has fundraised for various charities in the past including World Wildlife Fund, Sick Kids Hospital, Mount Sinai Hospital, Women's College Hospital and the Ottawa Humane Society. In 2008, she won the Rising Star Award, which was awarded to her as 'the newest member of the team who raised the most donations overall for the season.' Eden single-handedly raised over $20,000 for the above named charities that summer.
Eden enjoys academics, writing, photography, business networking, exercising and travelling, as well as caring for her two dogs, Ace and Sadie. She is currently a Manager part-time at a promotional marketing/modeling agency, and she has been doing print, runway, commercial and promotional modeling since 2009. Eden would love to become Miss Canada Globe in order to be an inspiration and positive role model to young Canadian girls, especially her favourite little girl – her 7-year-old sister, Breanna.

Past Title Holders:

Jacqueline Wojciechowski, Miss Canada Globe 2013/ 2014
(Miss Western Ontario- Globe 2013/ 2014)



Casar Jacobson, Miss Canada Globe 2012/2013
(Miss British Columbia- Globe 2012/ 2013)



Vanessa Littler, Miss Canada Globe 2011/2012
(Miss Northern Nova Scotia- Globe 2011/2012



Nicole Lacz, Miss Canada Globe 2010/ 2011
(Miss Peel Region- Globe 2010)
Note: Top 15 Semifinalist and winner of Miss Elegance Award at Miss Globe 2011 World Final in Tirana, Albania



Trician- Renee Edwards, Miss Canada Globe 2009/ 2010
(Toronto, Ontario)
Note: Won Miss Friendship Award at the 2010 Miss Globe World Final in Seranda, Albania



Shanelle Vogt, Miss Canada Globe 2008/ 2009
(Peel Region, Ontario)
Note: Miss Golden Girl, Miss Globe 2009



Krystal Wilson, Miss Canada Globe 2007/ 2008
(Central Ontario)
Note: Fourth Runner- Up, Miss Globe 2008



Stefania Cerbino, Miss Canada Globe 2006/ 2007
(Vaughan, Ontario)
Note: Best National Costume, Miss Globe 2007



Natasa Delic, Miss Canada Globe 2005/ 2006
(Wentworth County, Ontario)
Note: Semifinalist, Miss Globe 2006



Jessica Thibault, Miss Canada Globe 2004/ 2005
(Barrie, Ontario)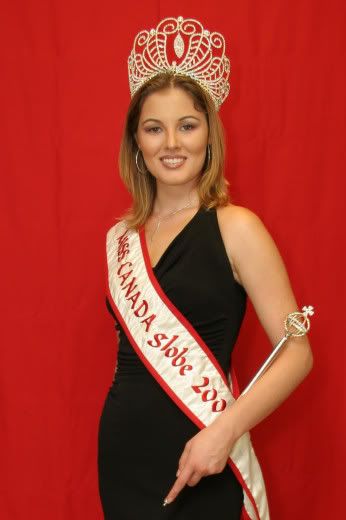 Mias Santa Ana Pilar, Miss Canada Globe 2002/ 2003
(Toronto, Ontario)





Lillian Adessa, Miss Canada Globe 2001/ 2002

Linda Strauss, Miss Canada Globe 2000/ 2001