Miss Canada Globe 2013 Winner:
Jacqueline Wojciechowski (Miss Western Ontario- Globe 2013)



BIOGRAPHY:

Jacqueline is a London, Ontario resident and is currently studying at the University of Western Ontario, pursuing her degree in Political Science. With her strong work ethic, she is a goal-driven individual who enjoys travelling, dancing and being involved in many forms of outdoor activities. She works as a swim instructor and a lifeguard, and models for Exclusive Models.

Jacqueline's strong Polish heritage has allowed her to get closely involved within the community. Jacqueline is a part of London's Polish Folk Dance group, "Cracovia", where she given the opportunity to perform in Poland. Jacqueline not only dances, but also teaches and choreographs for her own group of young dancers. She is a member of a Polish organization called "PISK," which has a strong focus on networking and hosts many projects. Jacqueline feels proud of her Polish heritage and is honored to be a part of this great country of Canada, which is so rich in diversity and cultures.
For the past twelve years, Jacqueline has been a part of The Children's Aid Society. She enjoys working and helping children and it has grown to become a passion of hers. She is always looking to further her involvement with charities and organizations who's focus is on assisting and supporting children of all ages, as she believes that they truly do represent the future. Jacqueline feels strongly about helping to make a difference in their lives in any way she can through positive leadership.

Jacqueline's sincere hope is to utilize her skills, experience, and knowledge to the best of her ability to help and support others. She is grateful for this unique opportunity of being a part of Miss Canada Globe and hopes that it might further open doors, taking yet another step towards making her dreams a reality.
2013 Royal Court:


1st Princess: Jasmine Prince (Miss Ontario- Globe 2013)



2nd Princess: Tetinya Caffet (Miss Saskatchewan- Globe 2013)



3rd Princess: Lauren Roy (Miss Southern Ontario- Globe 2013)



4th Princess: Meghan House (Miss Newfoundland and Labrador- Globe 2013)




Past Title Holders:

Casar Jacobson, Miss Canada Globe 2012/2013
(Miss British Columbia- Globe 2012/ 2013)

Vanessa Littler, Miss Canada Globe 2011/2012
(Miss Northern Nova Scotia- Globe 2011/2012



Nicole Lacz, Miss Canada Globe 2010/ 2011
(Miss Peel Region- Globe 2010)
Note: Top 15 Semifinalist and winner of Miss Elegance Award at Miss Globe 2011 World Final in Tirana, Albania



Trician- Renee Edwards, Miss Canada Globe 2009/ 2010
(Toronto, Ontario)
Note: Won Miss Friendship Award at the 2010 Miss Globe World Final in Seranda, Albania



Shanelle Vogt, Miss Canada Globe 2008/ 2009
(Peel Region, Ontario)
Note: Miss Golden Girl, Miss Globe 2009



Krystal Wilson, Miss Canada Globe 2007/ 2008
(Central Ontario)
Note: Fourth Runner- Up, Miss Globe 2008



Stefania Cerbino, Miss Canada Globe 2006/ 2007
(Vaughan, Ontario)
Note: Best National Costume, Miss Globe 2007



Natasa Delic, Miss Canada Globe 2005/ 2006
(Wentworth County, Ontario)
Note: Semifinalist, Miss Globe 2006



Jessica Thibault, Miss Canada Globe 2004/ 2005
(Barrie, Ontario)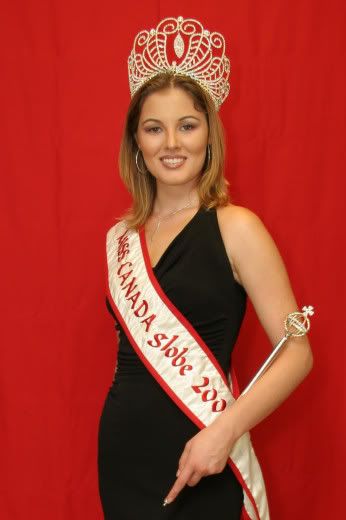 Mias Santa Ana Pilar, Miss Canada Globe 2002/ 2003
(Toronto, Ontario)





Lillian Adessa, Miss Canada Globe 2001/ 2002

Linda Strauss, Miss Canada Globe 200/ 2001