MISS CANADA GLOBE

Miss Canada Globe is the Nationa Preliminary to THE MISS GLOBE™​ (Deliart Association). The winners represent Canada at THE MISS GLOBE™.

FYI: MISS CANADA GLOBE title is the official title of the Canadian Representative of THE MISS GLOBE ™ since year 2000. The title holder also carries "THE MISS GLOBE CANADA" alternatively since 2016. MISS CANADA GLOBE PRODUCTIONS is not related to the Miss Globe Canada Organization (since 2016) and the Miss Globe Group Organization (Crown Town Productions).


National Princesses are sent to various International Pageants to represent Canada:
1st Princess: Miss Tourism International Pageant
2nd Princess: Miss Tourism Queen of the Year Pageant
3rd Princess: Miss Beauty International Pageant
4th Princess: Miss Tourism Intercontinental Pageant

Miss Canada Globe 2017 Winner:
Shayna Canfield, Miss Canada Globe 2017/18
(Miss Ontario- Globe 2017/18)
2017/18 Royal Court:
1st Princess: Joanna Charles (Elevated to the Position)
(Miss Alberta- Globe 2017/18)
- Official Representative to the 2018 Miss Tourism Intercontinental Pageant in Dominican Republic)


Past Title Holders:

Amberly Jantzi- Miss Canada Globe 2016/17
(Miss Alberta- Globe 2016/`7)
-Represented Canada at The Miss Globe 2017 Pageant, placed as one of the Top 10 semifinalist.




Kaitlyn Pickering- Miss Canada Globe 2015/16
(Miss Saskatchewan- Globe 2016/17)
Represented Canada at The Miss Globe 2016 Pageant in Tirana, Albania
Won Miss Talent Award



Jessica Zephyr, Miss Canada Globe 2014/15
(Miss Quebec- Globe 2014/ 15)
-Placed Semifinalist at Miss Globe 2015 (DELIART Association)



Jacqueline Wojciechowski, Miss Canada Globe 2013/ 2014
(Miss Western Ontario- Globe 2013/ 2014)
-Winner of Miss Globe 2014 (DELIART Association)
-Placed Top 20 semifinalist, Miss Tourism International 2013




Casar Jacobson, Miss Canada Globe 2012/2013
(Miss British Columbia- Globe 2012/ 2013)




Vanessa Littler, Miss Canada Globe 2011/2012
(Miss Northern Nova Scotia- Globe 2011/2012



Nicole Lacz, Miss Canada Globe 2010/ 2011
(Miss Peel Region- Globe 2010)
Note: Top 15 Semifinalist and winner of Miss Elegance Award at Miss Globe 2011 World Final in Tirana, Albania (DELIART Association)



Trician- Renee Edwards, Miss Canada Globe 2009/ 2010
(Toronto, Ontario) (MCGP Legacy Queen)
Note: Won Miss Friendship Award at the 2010 Miss Globe World Final in Seranda, Albania (DELIART Association)



Shanelle Vogt, Miss Canada Globe 2008/ 2009
(Peel Region, Ontario)
Note: Miss Golden Girl, Miss Globe International 2009 (DELIART Association)



Krystal Wilson, Miss Canada Globe 2007/ 2008
(Central Ontario) (MCGP Legacy Queen)
Note: Fourth Runner- Up, Miss Globe international 2008 (DELIART Association)



Stefania Cerbino, Miss Canada Globe 2006/ 2007
(Vaughan, Ontario)
Note: Best National Costume, Miss Globe International 2007 (DELIART Association)



Natasa Delic, Miss Canada Globe 2005/ 2006
(Wentworth County, Ontario)
Note: Semifinalist, Miss Globe International 2006 (DELIART Association)



Jessica Thibault, Miss Canada Globe 2004/ 2005
(Barrie, Ontario)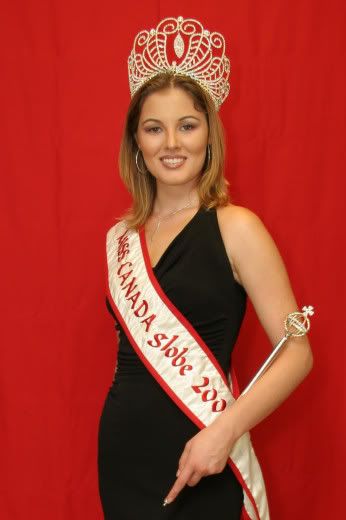 Mias Santa Ana Pilar, Miss Canada Globe 2002/ 2003
(Toronto, Ontario)





Lillian Adessa, Miss Canada Globe 2001/ 2002

Linda Strauss, Miss Canada Globe 2000/ 2001