MCGP CANADIAN SCHOLARSHIP AMBASSADOR:
MCGP CANADIAN SCHOLARSHIP AMBASSADOR is a title created by Miss Canada Globe Productions created for Miss Canada Globe and Miss Canada Petite Delegates in order to inspire them to promote the importance of education to youth in our community.
MCGP Canadian Scholarship Ambassador title holder travels to schools around the country to promote the importrance of education, do fundraisings to help raise money for books, student aids and student mentoring programs.
MCGP Canadian Scholarship Ambassador receives a scholarship grant from the Miss Canada Globe Productions and represents Canada in a major scholarship international pageant.
MCGP Canadian Scholarship Ambassador Winner:
Danielle Hanley, MCGP Canadian Scholarship Ambassador 2014/2015
(Miss Petite Eastern Ontario 2014/ 2015)
BIOGRAPHY:
Danielle was born and raised in Ottawa, Ontario. She is currently in her third year at Trent University, studying to become a Registered Nurse, a career she decided to pursue due to her love of science and helping those in need. She has been on the Dean's Honour Roll throughout her university education, and enjoys activities such as African drumming and dancing, reading, swimming and yoga.
Danielle enjoys travelling during her spare time, for pleasure and charity work. In 2013, she volunteered at the Lion Park animal sanctuary in South Africa where she had the opportunity to work closely with various animals such as lions, cheetahs and giraffes, alongside volunteers from around the world. In February 2014, as her community nursing placement for Trent University, Danielle travelled to Honduras as a member of a medical brigade with the organization Friends of Honduran Children, providing primary health care to rural villages throughout the country. Danielle also volunteers with local Ottawa charities, including the Queensway Carleton Hospital and the Youville Centre, a highschool that supports young single mothers in completing their degrees while providing childcare services.
Danielle has been modelling part-time for six years, with promotional and catalogue experience. As sales associate at Masters n' Dogs, a dog specialty store that works closely with the B.A.R.K. dog rescue organization, she has the opportunity to play with dogs and interact with customers. Using the opportunity of the Miss Canada Petite Pageant, she hopes to pursue volunteer work in developing countries and throughout Canada, to challenge herself through this new experience and to meet new friends. Danielle hopes to work for the Red Cross after she graduates as a Registered Nurse.
Past Title Holders:
Aleca Antonakis, MCGP Canadian Scholarship Ambassador 2012/ 2013
(Miss Petite Western Manitoba 2012)
Carrissa Lowhorn, MCGP Canadian Scholarship Ambassador 2011/2012
(Miss Southern Alberta- Globe 2011)
Pauline Lucas, MCGP Canadian Scholarship Ambassador 2010/ 2011
(Miss Petite Quebec 2010)
NOTE: Top 10 semifinalist and Miss Friendship winner at the 2011 Miss Freedom of the World Pageant.
Luba Czech, MCGP Canadian Scholarship Ambassador 2009/ 2010
(Miss Ontario- Globe 2009)
Kristine Di Carlo, MCGP Canadian Scholarship Ambassador 2008/ 2009
(Miss Caledon County- Globe 2008)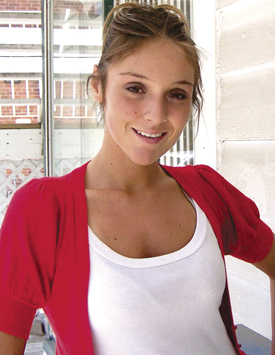 Nina Guegen, MCGP Canadian Scholarship Ambassador 2007/ 2008
(Miss Saskatchewan- Globe 2007)
Amy Hu, MCGP Canadian Scholarship Ambassador 2006/ 2007
(Miss Teen Eastern Ontario- Globe 2006)