MCGP CANADIAN SCHOLARSHIP AMBASSADOR:
MCGP CANADIAN SCHOLARSHIP AMBASSADOR is a title created by Miss Canada Globe Productions created for Miss Canada Globe and Miss Canada Petite Delegates in order to inspire them to promote the importance of education to youth in our community.
MCGP Canadian Scholarship Ambassador title holder travels to schools around the country to promote the importrance of education, do fundraisings to help raise money for books, student aids and student mentoring programs.
MCGP Canadian Scholarship Ambassador receives a scholarship grant from the Miss Canada Globe Productions and represents Canada in a major scholarship international pageant.
MCGP Canadian Scholarship Ambassador Winner:

Carley Wilkins, MCGP Canadian Scholarship Ambassador 2015/ 16
(Miss Petite Greater Chatham Region 2015/ 16)
BIOGRAPHY:
Carley is 21 years old and going into her third year of Politics and Governance at Ryerson University. This is her very first beauty pageant!
Carley has a passion for politics and making a difference in the world. She has volunteered in her local Mayor's Office and been to many community events to support local businesses and organizations. She has been a member of the Youth Engagement Partnership through United Way to encourage and engage youth in their community; was selected to be a member of the Ontario Minister's Student Advisory Council for Education; and created a SpeakUp Committee in her high school to reach out to students who didn't have a voice. Carley is on the works implementing a program for grade 6-7 girls in Toronto to talk with them about body image and teach them confidence skills. Through being a part of this pageant she hopes to reach out to other women who have struggled with body image and mental health and to inspire them to be able to look in the mirror and feel beautiful and know that they're enough.
From being elected by a class of 400 to represent them as their High School Valedictorian, to attending leadership camps such as Ontario Educational Leadership Centre, to being asked to run for Student Council by her peers in her University Program and much more, Carley has gained leadership skills and confidence in herself to be very successful and has found a great amount of happiness. Carley also enjoys playing the piano, singing, figure skating, visiting family and friends, working out, sight-seeing, meeting new people and trying new things.
Past Title Holders:
Danielle Hanley, MCGP Canadian Scholarship Ambassador 2014/2015
(Miss Petite Eastern Ontario 2014/ 2015)
-Winner of Miss Petite Tourism Intercontinental 2015/16
Aleca Antonakis, MCGP Canadian Scholarship Ambassador 2012/ 2013
(Miss Petite Western Manitoba 2012)
Carrissa Lowhorn, MCGP Canadian Scholarship Ambassador 2011/2012
(Miss Southern Alberta- Globe 2011)
-Winner of Miss Cosmopolitan Award at Miss Globe 2013
-Winner of Miss Cosmopolitan Award at Miss Tourism Planet 2012
Pauline Lucas, MCGP Canadian Scholarship Ambassador 2010/ 2011
(Miss Petite Quebec 2010)
NOTE: Top 10 semifinalist and Miss Friendship winner at the 2011 Miss Freedom of the World Pageant.
Luba Czech, MCGP Canadian Scholarship Ambassador 2009/ 2010
(Miss Ontario- Globe 2009)
Kristine Di Carlo, MCGP Canadian Scholarship Ambassador 2008/ 2009
(Miss Caledon County- Globe 2008)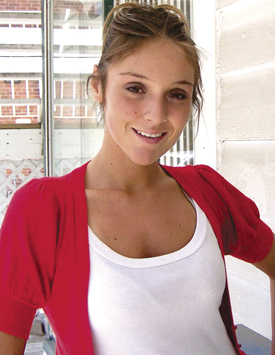 Nina Guegen, MCGP Canadian Scholarship Ambassador 2007/ 2008
(Miss Saskatchewan- Globe 2007)
Amy Hu, MCGP Canadian Scholarship Ambassador 2006/ 2007
(Miss Teen Eastern Ontario- Globe 2006)