MISS TEEN CANADA GLOBE 2015 WINNER:

Carly Wheelans, Miss Teen Canada Globe 2015/ 16
(Miss Teen Ontario- Globe 2015/16)
Biography:
Carly was born in Belleville, Ontario on June 8th, 1999 and currently resides in Barrie. Carly has a strong set of morals and believes that you must work hard to be successful. These qualities are evident in her academics as she has been an honour roll student for the last several years, participated in mathematic competitions, and received the geography award. Carly is enthusiastic for her up and coming grade eleven school year, as she has been chosen as a member of the 2016 Barrie Youth Ambassadors global exchange program. She will be representing Simcoe County in her travels to Cuba and Germany while studying global issues.
Carly has been dancing since the age of ten and last year competed with L.A Dance Design. She is a member of the Innisdale Dance Company and received the grade ten dance achievement award. Carly has been an active volunteer with Special Olympics for the past four years. This organization enables people of all ages and disabilities to participate in a variety of organized sports. Special Olympics has truly touched Carly as she loves working with all the joyful people of this organization and finds it rewarding to see the athletes improve and rejoice their personal accomplishments. Carly also strives to maintain a healthy lifestyle and works out regularly with certified trainers at Mind to Muscle Sports Rehabilitation. Although, Carly understands that health is not solely physical as she has been chosen to help implement a mental health program within her school. Carly hopes that this committee will be able to create a positive environment within her high school where every student can feel safe and supported. Finally, Carly hopes to aid in the overall wellness of people. She currently wants to major in either medicine or psychology and minor in dance.
2015 Royal Court:

1st Princess: Caylin Rutherford
(Miss Teen Greater Victoria Region- Globe 2015/ 16)

Caylin is about to embark on her journey to fulfill her passion to protect the disenfranchised. She recently graduated from Mount Douglas Secondary School in Victoria, BC and will be pursuing a Criminology degree at Vancouver Island University in the fall. Outgoing and articulate, Caylin will use her strong voice, honed through her debating experience, to speak for those who have none. She is particularly passionate about preventing human trafficking.
Caylin, or Cay to those who know her well, was born on 6 Nov 1997 in Victoria. She grew up in a family of mixed cultures – South African, British, Dutch – where she learned to appreciate different traditions and diversity. She is a lover of the arts, enjoying music, singing, dancing and acting. She plays the violin, drums, and guitar. She started in ballet at six years old, moving to Irish dancing and most recently hip hop, winning individual and crew performance awards. She has performed in several theatre productions through Victoria's Kaleidoscope Theatre and her school, including A Midsummer's Night Dream and Pippi Longstocking.
Staying actively involved in volunteer and community work is a way for Caylin to help others. She has worked with organizations such as Freeset, the Society for the Prevention of Cruelty to Animals (SPCA), C-FAX Santa's Anonymous, the Heart and Stroke Foundation and the Canadian Cancer Society. Much of her work is with and for children and animals – a testament to her strength in speaking and acting for others.
Her hobbies also reflect her passions and diversity. She is an avid horse rider, a water safety instructor, a sailor and a car enthusiast. She loves to tinker around fixing cars and is the only female member of a competitive paintball team.
TBD

3rd Princess: Brooke Widdup
(Miss Teen Saskatchewan- Globe 2015/ 16)

Brooke was born February 9th, 2000 in Regina, Saskatchewan to Ryley and Alaina W. Being an only child around adults, she has gained excellent confidence in making conversation and has encouraged her to create bonds with people around her age. She is going into grade 10 in her hometown Kipling, Saskatchewan at Kipling High School, where her favorite class is Math. She is also in the Senior Band where she plays the trumpet. When she is finished school, she wants to go traveling for a year then wishes to study Forensic Science. In the meantime she works at a Bakery in her hometown where she always strives to give her 100% to finish her job where she has learnt she always wishes to help out others.
She grew up playing sports such as Soccer, Swimming, Volleyball, Horseback Riding and her passion is Figure Skating. She also enjoys creativity with reading, writing, and drawing in her spare time. She is also an adventurist, always wanting to try new opportunities, such as traveling. She also loves the outdoors where she goes camping, hiking, kayaking and mudding every chance she can get. At school she likes to make new friends within higher and lower grades and likes to take part in school events.
Her family donates to local organizations such as church groups and the local rink and skating club. Brooke herself raises money for a charity she has been involved with for the past 8 years called the Lions Foundation of Canada; Purina Walk for Dog Guides. During the winter, she helps out at her Rink Kitchen which is entirely ran by volunteers. She also likes helping out around her school.

Past Title Holders:

Jenny Le Blanc, Miss Teen Canada Globe 2014/ 2015
(Miss Teen New Brunswick- Globe 2014/15)

Abissheka Lloydson, Miss Teen Canada Globe 2013/14
(Miss Teen Ontario- Globe 2013/14)



Kaitlin Cross, Miss Teen Canada Globe 2012/ 2013
(Miss Teen Saskatchewan- Globe 2012)



Brittany Doleman, Miss Teen Canada Globe 2011/ 2012
(Miss Teen Hamilton Region- Globe 2011)
Ashna Dhalla, Miss Teen Canada Globe 2010/ 2011
(Miss Teen Manitoba- Globe 2010)
Paulina Chan, Miss Teen Canada Globe 2009/2010
(Miss Teen Central Ontario- Globe 2009)
Angela Fermani, Miss Teen Canada Globe 2008/ 2009
(Miss Teen District of Maple- Globe 2008)
* Winner of Miss Teen Worldwide 2009

Paisley Mc Nab, Miss Teen Canada Globe 2007/ 2008
(Miss Teen Southern Ontario- Globe 2007)
*Winner of Miss Teen Worldwide 2008
Cali Tanner, Miss Teen Canada Globe 2006/ 2007
(Miss Teen Durham Region- Globe 2006)
*Placed Second Runner- Up, Miss Teen World 2007)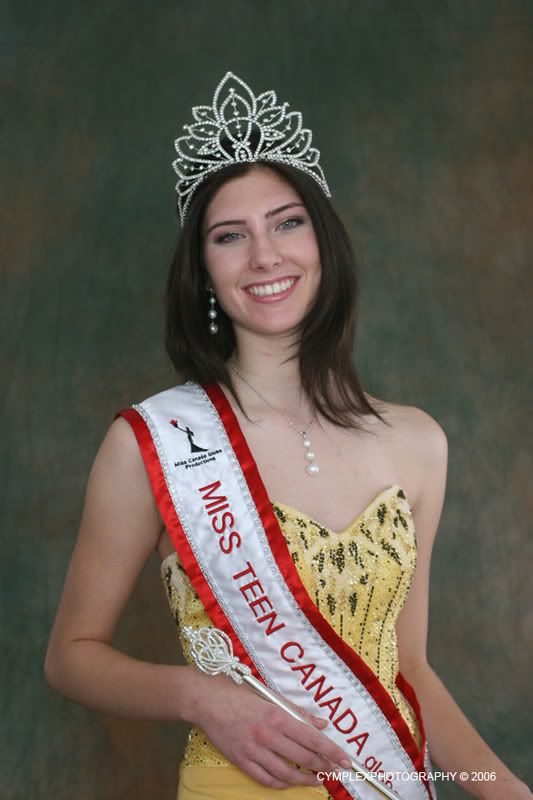 Laura Leigh, Miss Teen Canada Globe 2005/2006
(Miss Teen Barrie- Globe 2005)
*Placed Third Runner- Up, Miss Teen World 2006)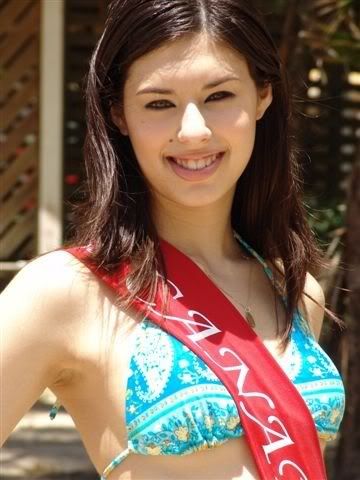 Daniela Rojas, Miss Teen Canada Globe 2004/ 2005
(Miss Teen Brampton- Globe 2004)
* Winner of Miss Teenager World 2004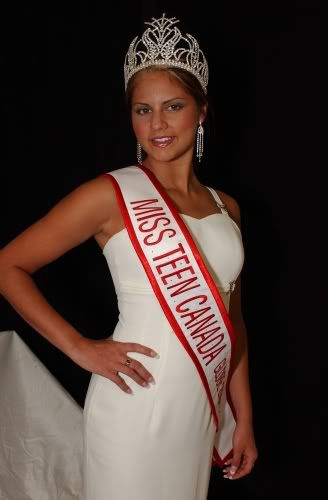 Jennifer Hing, Miss Teen Canada Globe 2003/2004
(Miss Teen Newmarket- Globe 2003)